Life story
Pavlo's story is the story of fighting-fighting for his life. From the moment he appeared in this world without the ability to breathe until the last moments of his frantic battle with the treacherous rip current, his life was a never-ending struggle.
Childhood
Pasha was born on September 27, 1988, in Kyiv, Ukraine, with the umbilical cord wrapped around his neck, literally strangling him. After 40min of artificial ventilation and intensive resuscitation, he was brought to life, but the doctors' prognosis wasn't optimistic. Because Pasha had spent such a long time without oxygen, we were told his brain had most probably sustained significant damage and chances for normal development were very slim. We were advised to leave him in the government's care, which was an option in Ukraine. We refused and took Pavlo home, after he had spent two months in the intensive natal care unit of a children's hospital.
He was diagnosed with cerebral palsy, and his physical development was quite slow. He started to sit at about a year and a half, and took his first steps at about two and a half. Pasha's mother left work and concentrated all her efforts on his health. She learned massage, and rehabilitation techniques and exercises, to help him.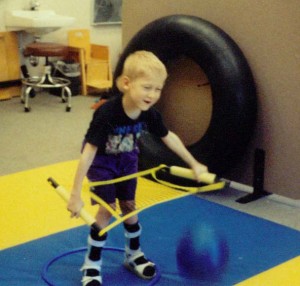 Her tireless work brought results. His movements became steadier, and, by the age of three and a half, he could walk independently. Although all his motor functions were still severely impaired, his mental abilities, luckily, weren't affected. He began to read at the age of four, although his speech was not very understandable, due to the affected fine motor functions.
In early 1995, Pavlo came with the family to the US, after his father, a visiting scientist at NJIT, found a possibility for further medical treatment. Pavlo underwent percutaneous elongation surgery, charitably performed by renowned children's orthopedist Dr. Nuzzo, at Overlook Hospital in Summit, NJ. This operation released the tension of his knee tendons and significantly improved not only his gait, but his overall ability to move. Post-surgery rehabilitation was provided by JFK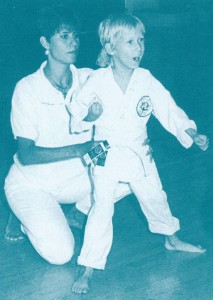 Medical Center in Edison, NJ, and lasted more then a year. Sue, Debby, and Kim, his team of physical therapists, became like family members. On several occasions, they were guests at our house. At the same time, Pavlo joined a karate program for special children, sponsored by Overlook Hospital, which lasted for about two years. This program was extremely helpful in developing his coordination, as well as developing his strong positive attitude toward overcoming difficulties. His therapists said that Pavlo was a very unusual patient-he was ready and happy to do any exercise, whatever the duration, without complaining and without becoming bored.
His Early School Years
As a result of all these efforts, Pavlo was able to enter a mainstream school program, first in New Providence, NJ, and later in Rockaway, NJ (Stony Brook Elementary and Copeland Middle schools). Despite his unsteady gait, frequent falls, and lack of motor skills, he demonstrated that he was a very independent person, not wishing to accept help from anybody other than his parents.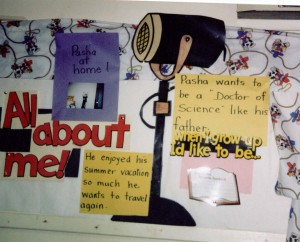 His passion for physics and mathematics manifested itself quite early [1, 2, 3, 4, 5] . In third grade, he started to participate in all the science fairs, with different projects. In sixth grade, Pavlo completed not only sixth-grade math, but also seventh- and eighth-grade math program. When he was in the seventh and eights grades, Copeland Middle School transported him to Morris Hills and Morris Knolls High Schools for math lessons in Algebra 2 and Geometry. For two summers during middle school, he attended a Summer Institute for the Gifted program at Drew University, where he advanced to Calculus, thus exhausting their offerings in math and science. In physics, he was a totally intuitive learner. He seemed to know physical concepts and ideas even before you taught them to him. Pavlo deemed the level of school physics too low for him, so in eighth grade, he read several chapters of a college textbook on modern physics and did his first serious project on how "Newtonian Physics Fails to Describe Extremes."
Although more and more time had to be devoted to his intellectual development, his physical problems required constant exercise. He loved to run. Strangely, it was easier for him to run than to walk. He learned to ski, and, very slowly, he started learning to bike and swim, both being very hard for him. Teaching him every new physical activity was a very slow process, and required a lot of repetition and patience, as most of the movements "normal" people perform automatically, on a subconscious level, he had to learn, remember,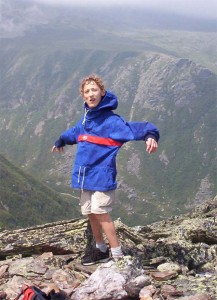 and perform consciously. He never relented or gave up.
At this time, Pasha started to develop his other passion-mountain hiking. We made our first serious hiking trips with him to the Great Smoky Mountains, TN, and the White Mountains, NH, in 1997 and 1998. Then, he started to search, himself, for hiking trails. First, among Rockaway hills, and, later, in the Catskills, the Adirondacks, and in Vermont and New Hampshire. He persuaded his father to go on more and more strenuous hikes. The first 15-mile hike, in 2002, to Mount Marcy, the highest peak in the Adirondacks, lasted 14 hours. His endurance, for such a seemingly frail body, was phenomenal.
Newark Academy
In 1993, Pasha applied and was accepted to the Math and Science Academy of Morris County, a newly opened public experimental school, and to Newark Academy, one of the oldest independent schools in the country. The choice we faced was not an easy one. We chose Newark Academy because they would allow him to skip the pre-calculus course if he studied it in the summer and passed a test. This way, he could take Calculus in ninth grade.
Newark Academy became the place at which he matured intellectually, physically, and as a true citizen of the earth. Their school policy encourages intellectual pursuits, which allowed him to take the toughest classes. More then once, he skipped courses in which he felt proficient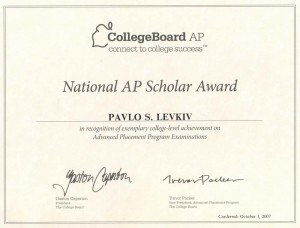 by studying in the summer and taking a test, thus enabling him to progress to the best of his abilities. In his four years at Newark Academy, he took a total of nine AP tests, two IB tests, and one college course. He participated in three different sports-cross-country, wrestling, and lacrosse. His passion for nature became more fundamental to him, as he read prodigiously on the subject and wrote some of his best pieces on it [1, 2]. We are enormously grateful to the faculty and staff of Newark Academy for the highest quality of education, in the broadest sense of the word, he received there.
The school became his second home, where he spent most of his days, from 8 am till 6 pm. Throughout high school, the work load was tremendous. At the memorial ceremony, we heard from Mr. Downs that Pasha was sometimes sleepy in his class. We didn't know about this, but we understand it might have happened in other classes also. That wasn't surprising, though, because, more often than not, his workday lasted till 1 or 2 am. It was an iron clad rule that he always had to do his assignments, no matter what. As everything he did, like eating, washing, dressing, etc., took him much more time than it took other kids, the only way he could compensate for it was by extending his workday beyond the limit. He was always busy, but a very unusual kid. For example, he didn't watch TV (except for, maybe, a couple of political shows a week). He never went to a movie. He didn't listen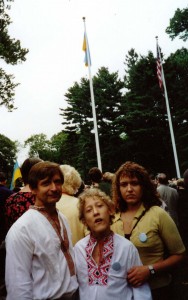 to popular music. He didn't play games. He didn't hang out with other kids. The only break he allowed himself was to jog around the lake with his two dogs, who he loved so much. This, and his problems with speech, of course, made it difficult for him to establish friendships with his peers. Besides, the only topics he was interested to talk about were science, politics, nature, and Ukraine.
Ukraine occupied a very special place in Pavlo's life. He was very conscious of his origins and cultural inheritance. For ten years, he attended the Saturday Ukrainian Community School, where he learned the Ukrainian language, history, and culture. He followed closely political events in Ukraine and always was eager to talk about them. Not surprisingly, all of his published works were on Ukrainian topics [1, 2, 3] .
During these years, we traveled extensively throughout the US. In summer, it was all about sightseeing and hiking. A significant part of his life was spent "on wheels." He visited most of the US national parks. As he became older, he started to do the trip planning himself and always included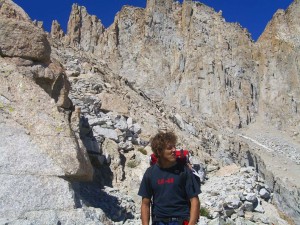 a couple of serious mountain hikes in each trip. The last one, in the summer of 2007, was most remarkable. We went to Mount Whitney, CA, the highest peak in the contiguous US. The 22-mile hike to the 14,500-foot summit took us 20 hours. We started at 4 am and came back close to midnight. Except for a 20-minute break, at the top, it was nonstop. That was the first time his father ever saw him really exhausted. It was the hardest test, ever, of his endurance. In winter it was all about skiing, which we always did with his elder sister, Anna. She's a very good skier, and, with a great deal of patience, she taught him and followed him closely on the slopes. We usually never let him ski alone, because, if he fell, it was very difficult for him to get up and get back into the ski bindings on the slope. He tried to compete with Anna, but still could achieve the smoothness and easiness with which she glided through the hardest double diamonds.
Middlebury College
When it came time for Pavlo to apply to a college, the main criterion was "a college within a one-hour drive from home," as we were very concerned about his ability to live independently in the stressful college environment. With all of his time devoted to education and exercising, Pavlo wasn't well-prepared for independent living. He was spared of all household chores, and many routine tasks-like buttoning a shirt, closing a zipper, turning a key to open the door, etc., were still serious problems for him. Among the ten schools he applied to, Middlebury College was the only one that didn't satisfy our criterion. It was chosen by Pavlo, and he insisted on applying. We didn't really resist much, as we estimated his chances of being admitted to one of the highest ranking liberal arts colleges, renowned for literature and humanities, was very slim. We were wrong. He got the letter of admission from Middlebury, among seven others, and he chose to go there, despite our objections.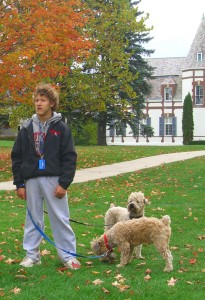 His college choice happened to be 100% correct. He flourished there. Middlebury was destined to become his first home. He loved all aspects of it-freedom from parental supervision, his fellow students and professors, the gorgeous views, and, last but not least, the food. Especially, he valued the atmosphere of the physics department, and college proximity to his beloved nature and mountains. In his prior school years, he hadn't had much opportunity to take physics courses at the level adequately advanced for him, he studied it mainly individually by taking AP tests and doing internship projects [1, 2]. Here, his thirst was finally quenched. He took four physics courses (three being at a higher class level) as a freshman and registered for three more for the fall of his sophomore year. The study room at the physics department became his primary residence, where he spent more time than in the dorm, working on assignments, and talking with students and professors.
He also continued to broaden his multicultural experience. He was quite multilingual. He spoke Ukrainian with his father, Russian with his mother, and English at school, thus being able to express himself perfectly in any combination of those three languages. He also had quite a good command of French, after five years of studying it at school, and also practicing it with his sister and father. His Russian, though perfect, was only the spoken word (in contrast to Ukrainian). So, he took a two-course series of Russian Culture and Civilization, in which he also had substantial practice in writing in Russian [1, 2].
Middlebury is located amidst the gorgeous Adirondack Mountains to the west and the Green Mountains to the east. This is probably what attracted him the most. He asked his father, many times, to come up and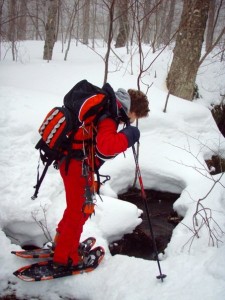 hike with him (he didn't drive.) But, after noticing a lack of enthusiasm on his father's part, he ended up organizing several trips-three of them in the winter, including Mount Marcy-with his new friends. Being an avid skier, he frequently skied on Middlebury Snow Bowl and other nearby slopes, especially during the winter term. The culmination of his winter hiking and skiing was the trip to the Tuckerman Ravine on Mount Washington-one of the most rugged slopes on the East Coast (no lift!)-where you actually have to hike up about four miles, with your skies and boots, before you can ski. We tried to plan this trip several times in earlier years, but every time his father backed off, scared by the difficulty. He did it with his friends this spring.
Looking back at that year, we can't help being dwarfed by the sheer intensity of the life he led at Middlebury-adjusting to independent life, studying hard, exploring the countryside on his bike, going to the gym, fishing, hiking, skiing. And, on top of all this-rugby. There was no wrestling team at the college, so he thought the closest sport would be rugby. We understand he didn't play in real games, but, even for practice, it's a tough sport. We'll never forget how happy he was when he called us and told us, "I caught a ball in the game!" His life in Middlebury was full of hard work, full of activities, full of joy. The only thing he lacked was sleep. It wasn't unusual for us to receive a call from him at 2 or 3 am-he was still working. There were many, many days when he slept just two or three hours. Several times, he confessed to us that he was exhausted.
By all accounts, his first year at Middlebury was very successful. He got three A-s in the spring and obtained a summer research position in the physics department. He was so proud and happy to stay in Middlebury for two more months. There was a break in the operation of the campus cafeterias, so he learned how to cook-yet another hilarious life experience for him. He was so happy there that he didn't want to come back home. But he did, of course. The day after he returned home, he started a summer course at NJIT, and we began to make plans for the future. His goal was to get into Phd program in physics as fast as possible. And then came that horrible morning at Island Beach State Park. Fate presented him yet another challenge-this time, the final one.
His Character
Life wasn't easy for Pasha, but he took all the problems and hardships he faced and turned them around to his advantage. He never accepted what life offered. Instead, he was absolutely determined to change it, to become better, to perfect himself. He never complained. He just knew that he had to overcome any obstacle he faced and that he could do it.
His view of life became quite philosophical. He didn't care about things most of us tend to enjoy, like fine clothing, good food, entertainment, games, gadgets, and other material things. He simply didn't notice them. He also didn't seem interested in what people thought about him, didn't try to compete for attention or social position. If he had those feelings, they were deep inside, or, maybe, he understood his own real value. He was always excited about more "important" things-knowledge, ideas, skills. It can be seen in many of his writings, how he always was trying to dig to the core of the matter, to find the underlying logic.
He was immensely kind and unpretentious. He was always ready to help and always did the hardest jobs at home, like digging, leveling and moving soil, and removing snow and leaves. The harder the work, the more he liked it. He usually didn't ask for anything. One of the hardest problems for us was buying him a birthday present or other gift. He didn't have the desire to possess anything kids usually like. None of these things had much meaning to him.
He also had an incredible sense of humor. It was quite sharp and witty [1, 2], but always friendly jokes. A broad smile was his most common facial expression.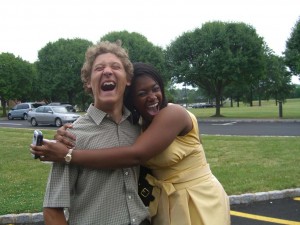 Happy, kind, brilliant, hard-working and always smiling…this was our Pasha.
Pavlo's family